Stud Welding Equipment, Accessories, Training & Repair Services
Stud Welding Equipment, Weld Stud Fasteners, Accessories and Service are our specialty. We offer the latest capacitor discharge and arc stud welding units (new and used), stud welding fasteners, accessories for all models, repair services, contract stud welding and training. Around the clock, on-site assistance is also available for your time critical projects.
Stud Welders
We represent several leading stud welding equipment manufacturers. We carry and stock a full line of capacitor discharge stud welders, arc stud welders, short cycle drawn arc stud welders and automated production units.
Capacitor discharge stud welders are ideal for applications with a weld range from 14 gauge to 3/8" diameter. Depending on the fastener and application, welds can be achieved to material as thin as .015 in only milliseconds. These units are lightweight, portable and operate on standard 110 voltage. These machines are commonly used by insulation contractors, OEMs, electrical contractors, sheet metal fabricators and other industries.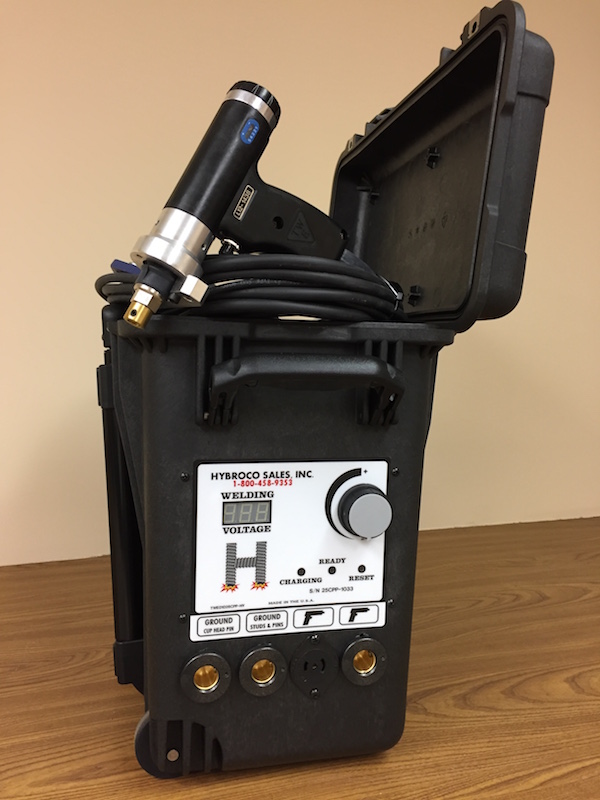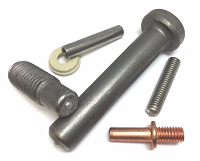 Arc and short cycle drawn arc stud welders are use in a variety of shop and field operations. With a weld range from 10 gauge to 1 ¼" diameter, arc stud welding can be used in many applications. These welders range in size from portable units to diesel driven trailer mounted stud welding systems. Units require a minimum of 220 voltage. These machines are commonly used by steel fabricators, steel erectors, bridge contractors, OEMs, refractory contractors, insulators and many other industries.
Production stud welders are designed for customer specific applications from simple drop head bench top units to full CNC/Robotic multi-head systems. Available in both capacitor discharge and arc, production units can be "turn-key" or components can be purchased separately and integrated into your existing systems.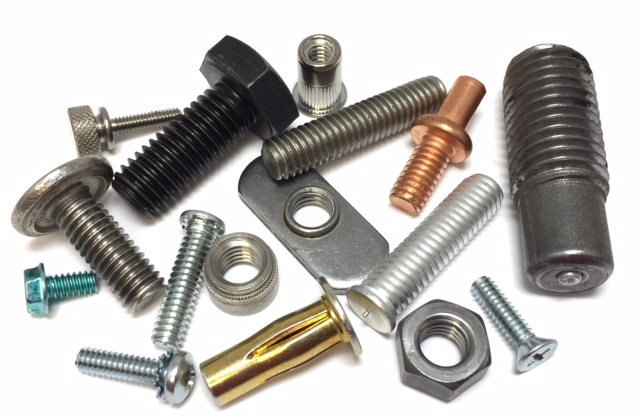 Stud Welding Fasteners
A wide range of capacitor discharge weld studs, arc weld studs and short cycle drawn arc weld studs are available. Capacitor discharge weld studs come in flanged, non-flanged, mini-flanged, threaded, non-threaded, collar studs, female tapped studs, wire tie studs, grounding studs, acoustical hangers, keyhole studs, paint stripping studs, fir tree studs and several other specialized parts. Common arc studs are headed anchors, shear connectors, threaded and non-threaded, collar studs, standoff studs, refractory anchors and several more. Short cycle drawn arc studs are also available in most of the same styles as the capacitor discharge studs and arc studs. In addition, several insulation fasteners are also stud weldable. Cupped head pins (cupheads), weld pins, duct liner pins and quilting pins are also stock items at all of our facilities.
Stud Welding Accessories
We provide accessories for almost every capacitor discharge stud welder and arc stud welder in service today, as well as most obsolete units. For capacitor discharge stud welders, we have collets, chucks, magnetic cupped head chucks, stops, adapters of all kinds, legs, footpieces, spark shields and much more. For the arc stud welders, we have chucks, footpieces, legs, ferrule grips, ferrule footplates, adapters and the list goes on. If you need a part for your stud welder, chances are we have it!
Stud Welding Repair and other Services
In addition to all of the parts and accessories, we have the know-how to repair your stud welder. For repairs at our facilities, turn around time is usually only a day or two unless special parts need to be ordered. Rental equipment is available to limit your downtime while your repairs are being completed. On site emergency repair service with back up equipment can also be provided. Stud Welder Training
Tap into our expertise and let us help educate and train your personnel. The majority of stud welding related problems are usually due to improper set-up, application design or simple operator error. We have provided training to our customers since our inception over 30 years ago and pride ourselves in knowing we have trained multiple generations in the various nuances of stud welding. Of particular note and importance is our dedication, commitment and support of the various apprentice programs that benefit from stud welding throughout the country. If you need an expert, call us!
Contract Stud Welding
You may want to consider our contract welding services to fulfill your stud welding requirements. We have the capability to weld with capacitor discharge or arc stud welding equipment up to 1" in diameter. Please call with your requirements.